I'm an Accredited Financial Investigator working for the Insolvency Service in Investigation and Enforcement. Before I took on my current role, I'd spent some 22 years in a variety of roles with the Royal Air Force. When I'm not in work, I enjoy helping out at my local church as well as doing voluntary work at the local food bank.
The Braintree Area Food Bank
In October 2019, as part of my local church's outreach project in Great Notley, we opened up a food bank distribution centre. We come under The Braintree Area Food Bank which is overseen by the Trussell Trust. The Trussell Trust supports a nationwide network of food banks and these provide emergency food and support for people locked in poverty.
Our centre was the 5th one to open and covers every Tuesday for 2 hours. Fortunately, the Insolvency Service allows its staff 5 days a year for voluntary work, so this enables me to work one morning a month at the centre. In December, I was asked to become a trustee of the charity, so this was an opportunity I jumped at.
Initially, clients were very slow in coming to the food bank and our volunteers felt a little dejected. Then, just as things started to pick up, and we were helping around 3 or 4 clients a week, the coronavirus (COVID-19) pandemic struck. Not only did this have a knock-on effect at Great Notley, but at all of our centres as the majority of our volunteers are aged over 70 and needed to stay home.
Read more about Coronavirus (COVID-19) and what you need to do
On 18 March, we held an emergency trustee meeting to decide on the way forward so that we could still provide essential food parcels to the vulnerable. We decided that we would condense our resources at three locations; Halstead, Braintree and Witham, and reduce our opening times.
We quickly found this actually helped us cover every day of the week, which in turn helped us manage our diminished volunteer numbers. Our new plan came into force on 30 March and this allowed us time to get the information to the centres and our volunteers.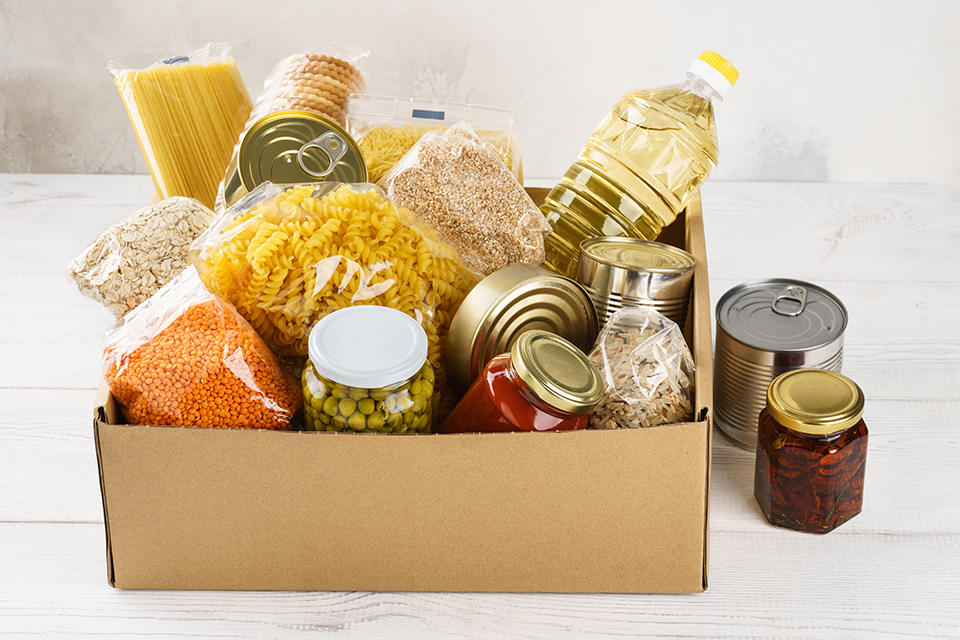 Collecting, sorting and distributing donations
We not only have volunteers in the centres, but also in the warehouse. Our volunteers weigh food donations, and sort them into individual categories which are then packed into boxes, and our drivers deliver the parcels to the centres. They then collect the food donations from various churches and shops dotted around our part of Essex. Oh, and not forgetting the numerous office volunteers who deal with fund raising, admin, PR and everything and anything that people throw at them!
We had some good news when we appointed a new project manager.  He started his new role on Monday 23 March - the same day the Prime Minister announced the lockdown - so to say he hit the ground running is an understatement! He's definitely the right person for the role and he's doing and excellent job - and far more than the job description required.
Our last distribution day at Great Notley, until we're allowed to reopen, was Tuesday 24 March. It was pretty manic as we'd run out of food and this needed to be restocked, but we were able to serve nine different households, or 44 people, with 660 meals served in total! In March we received almost 7 tons of donations (which included 1 ton from the supermarket), but we eventually distributed over 8 tons.
Volunteers and vouchers
When the government introduced its latest response to the Coronavirus outbreak, we needed to rethink how to ensure the safety of our volunteers and clients visiting the centres. I'll admit the first day was a bit chaotic because we all wanted to help each other out, but we soon found we were working too close to each other. We had to fix that.
Our new plan saw each volunteer have their own zone to work in. A volunteer now greets clients from a double depth table at the door, so keeping to the required 2 metres (6 feet) distance. This means our clients are, for now at least, unable to come in for a cuppa, a chat, a warm, or even more importantly be offered further help to get them out of their situation.
Clients arrive with a voucher which is distributed by various authorised agencies. We check everything is in order with the voucher, and another volunteer opens the right boxes for the size of the family and leaves them at the edge of their zone. Another volunteer picks some basic extras like toiletries and baby things, if needed, and also puts them on the edge of their zone. The box is then delivered to the first volunteers' zone who hands them over to the client.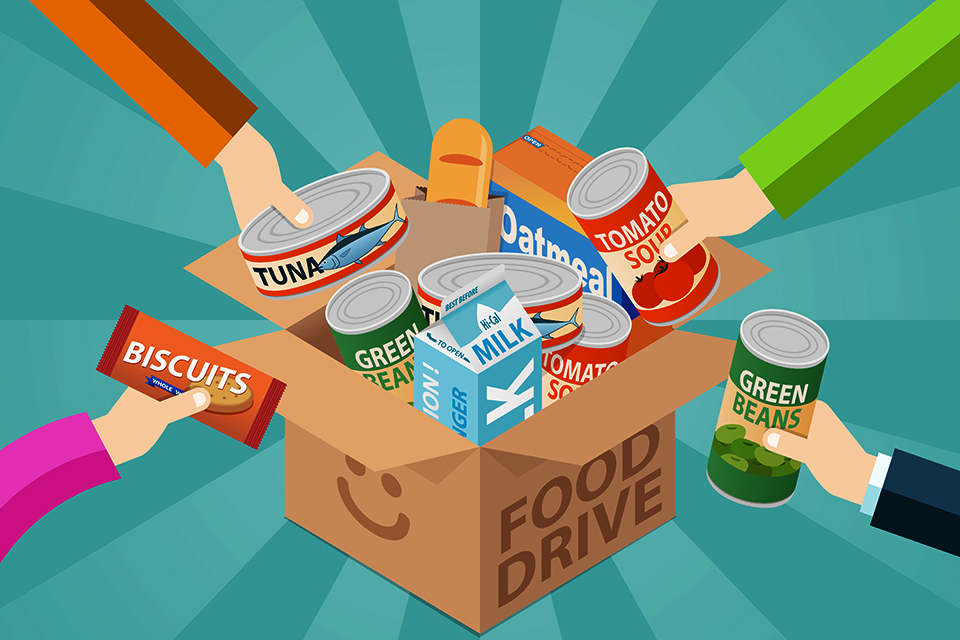 Stepping up
We had distributed three times more food than we have had donated, which means our supplies would eventually run out. Fortunately, the supermarkets stepped up and have donated essential food supplies and delivered them direct to us. This means we can still operate for a while yet.
It's not often I say I'm glad I live on my own, but this time is one of them because if I didn't, I couldn't volunteer to bring this essential service to people in crisis. As I've already mentioned, the Insolvency Service also allows me the flexibility I need to juggle work life with home life and my voluntary work.
Read about the benefits of working at the Insolvency Service
It's great that we've had new people volunteer, and we're always enthusiastically thanked for the food we give the clients - even from those that have turned up saying they never thought they'd be in this situation.
None of us can know if we'll need to use a food bank in the future as people can lose jobs and income overnight. So if I can ask one thing, now the shops have lifted some of the restrictions on the amount of some items we can buy, please if you can, put a little something in the permanent collection points at your local shop.
Or, if you want to help further, maybe volunteer for a couple of hours a week.