The Insolvency Service's Long Term Asset and Distribution team (LTADT) has offices across England and Wales. The Welsh team, based in Cardiff, recently held its annual Making a Difference day at Tŷ Hafan, a local children's hospice and charity.
Laura Gandy, senior leader
I'm the senior leader of the Long Term Asset and Distribution Team (LTADT) at the Insolvency Service's Cardiff office.
A couple of years ago I met with colleagues from our Engagement Champions Network and we made the decision to turn our annual team-building day into an activity that would make a difference in our local community.
The Insolvency Service allows staff to take up to 5 days a year for volunteering activities, so I encourage my team to do this, not just because of the benefits to the local community, but the associated improvements to individual skills and performance.
Tŷ Hafan
During the meeting, we agreed we would each use one of our volunteering days at a local charity. We contacted a variety of local charities and put the options to vote for their preferred option. Tŷ Hafan was declared the winner - and that's where it all began! It's the second year the team has chosen the charity for its Making a Difference day.
Since it began 20 years ago, Tŷ Hafan (Registered Charity No: 1047912) has become one of the UK's leading paediatric palliative care charities and offers care to children and support for their families, throughout Wales.

The charity offers comfort, care and support to life-limited children, young people and their families in the hospice, in the community and in their home so they can make the most of the time they have left together. (Tŷ Hafan.org)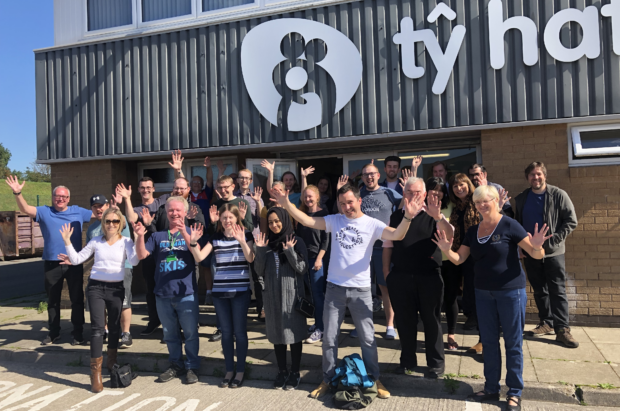 Making a difference
During our first visit in 2018, we arrived at Tŷ Hafan's Regional Distribution Centre (RDC) in Bridgend to lend a hand. They had plenty of work waiting for us! Donations received at local charity shops are delivered to the RDC to be sorted. Once this is complete, the donations are sent back out to the charity shops. There are only a handful of staff at the RDC at Bridgend, so the charity relies on the work of volunteers.
The day was spent helping staff and other volunteers as they worked their way through items that were to be sold on eBay, or tidying the bric-a-brac area, as well as sorting through and bagging toys and clothing.
The real purpose of all this was to help get as much stock out to the charity shops as quickly as possible. This should see an increase in sales in the shops, particularly getting the donated toys out to the shops in the run-up to Christmas.
In all we sorted 143 bags of clothes, over 60 bags of toys, and helped tidy the RDC's eBay and books sections ready for distribution to their network of charity shops in time for Christmas.  Estimated at a retail value of £30 per bag, it's estimated we helped get enough stock to shops to raise over £6,000.  We did the same last year and our work helped raise another £5,000 for the charity.  We are looking forward to helping again later this year.
We get a great deal of personal and team satisfaction from our volunteering days. It's also a good way of getting away from your desk, to work in a different environment with your colleagues, knowing that you've helped to make a real difference.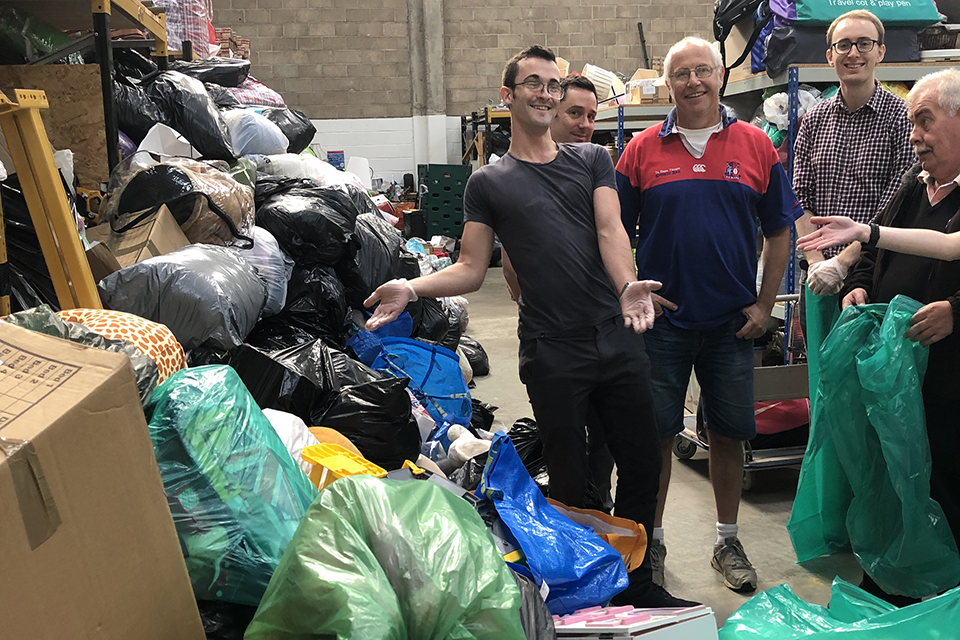 Rachel Vaughan, engagement champion
I'm an Asset Distribution Officer within LTADT, but I also act as one of the Cardiff office's Local Engagement Champions.
Community-based team building events have a proven record of developing cohesion, staff morale and motivation, while making a considerable contribution within the community.
Importantly, they are also enjoyable, rewarding and satisfying. A shared experience to talk about and a feel-good factor to take home with, in the sure and certain knowledge that you've done something amazing.
I spoke to a few of my colleagues on their thoughts of our Make a Difference volunteering days, so it was great to get some of their feedback.
My colleague, Tim Strange, told me "The time spent volunteering at Tŷ Hafan is really important to me.  The hours we worked at the distribution centre, in teams with colleagues we don't usually work with, have an immediate positive impact."
Chatting to my colleague Kate Edwards afterwards, said that "Helping out at Tŷ Hafan was great fun, and it was amazing to see how much we were contributing towards funds being raised". While another one of my colleagues, Paul O'Grady, told me the volunteering day was "...very rewarding from a personal point of view. It certainly makes you appreciate what you have."
There are loads of opportunities out there to choose from and they are very simple to organise. What are you waiting for? Volunteer!

LTADT and the Insolvency Service
LTADT has teams based in Brighton, Cardiff, Chatham, Ipswich and Manchester and deals with the realisation of assets considered to be long-term. These assets can include things like property and income payment agreements or orders.
Generally, assets are realised by the Official Receiver in bankruptcy cases. Where it'll take more than 12 months to realise any assets back to creditors, the case is passed to LDADT. The team has a Ministerial target to distribute £55m back to creditors this year. Since the team was created in 2013, LTADT has distributed £250m back to creditors.
Read more about registering as a creditor
Search for jobs at the Insolvency Service