This year's International Women's Day theme is #EachforEqual, with an emphasis on everyone to 'actively choose to challenge stereotypes, fight bias, broaden perceptions, improve situations and celebrate women's achievements.'
The Insolvency Service is holding its own celebration at its London office during the week, but I thought I'd take the opportunity to go back a fair few years and bring forward the name of Miss Gertrude Jenner. In her own words she was a spinster, friend to her 'fallen sisters' and 'an honest working woman'. Today, she's rightly regarded as an important figure in the early organisation of support for women's suffrage in Wales.
International Women's Day calls for us to 'Celebrate women's achievement. Raise awareness against bias. Take action for equality'. Gertrude Jenner did all of this, and I hope this blog goes someway to promoting her legacy. International Women's Day falls on Sunday 8 March this year, which just happens to be Gertrude Jenner's birthday.
Introducing Miss Gertrude Jenner, spinster
Born in the small rural village of Wenvoe in the Vale of Glamorgan in 1835, hers was a life born into privilege. One of 15 children from the marriage of Robert Francis Jenner, the local squire, and Elizabeth Lascelles, Gertrude grew up at the family's sprawling ancestral Wenvoe Castle Estate.
As was customary back then 'well-to-do' women would often pass their time doing charitable work. Gertrude's mother, Elizabeth, oversaw the building of the village school and annual tea parties were given to the local children.
In 1859, Gertrude became a subscriber to the Cardiff Female Servants' Home and Registry. This was an institution which aimed to 'provide a safe and comfortable home for respectable female servants, when seeking situations' and act as 'a Registry Office to assist employers in obtaining servants and to aid servants in obtaining situations'.
A life changed
Life changed irrevocably for Gertrude in 1860 when her father died. The estate passed to the eldest son. Gertrude moved out of the family home and into a cottage in the village to become a testamentary guardian to her five youngest siblings. Gertrude was only 25 herself, but she remained their guardian until her youngest sister, Isabel, came of age in 1868.
Aside from being guardian to her younger brothers and sisters, the decade was spent dedicating her time to the Llandaff 'House of Mercy' Mission, the Cardiff Infirmary and to the new Ely Industrial School which had opened in Cardiff in 1862. The school was run by the Cardiff Poor Law Union and was created for the children of paupers at the nearby Cardiff Workhouse. Gertrude would often allow patients from the Cardiff Infirmary to convalesce at her cottage, to get them out of the city.
Early suffrage
The 1870s began in much the same vein, with the same causes close to her heart, but in the background was the sale of the Wenvoe Estate by her brother. With elements of the old estate changing hands, life was getting harder for Gertrude, as she can began to lose control over some of her land. She also began to be plagued by open drunkenness in the village following the sale of the local public house.
When a conference was held to form a 'Cardiff Society for the Suppression of Drunkenness', Gertrude made sure she was there. A motion was passed that a 5 shilling subscription should be levied. Gertrude, the only woman in attendance, expressed a wish that the society should also be open to ladies, and that she was willing to become a member for 10 shillings. The motion was passed, so she paid her subscription and left.
Gertrude became one of the first women in Wales to be actively involved in the call for Women's Suffrage. The Women's Suffrage meeting in Cardiff in November 1872 was attended by Gertrude, but by 1876 she was listed as the Honorary Secretary of the Cardiff Branch and would continue to be active in the movement for the next decade.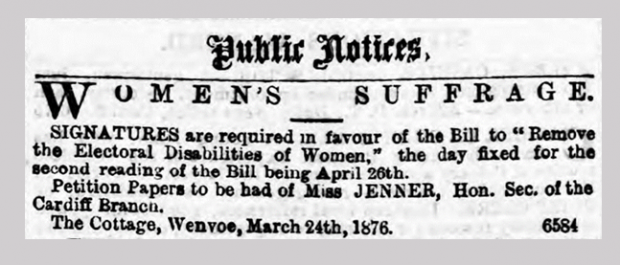 'Politics in petticoats'
When the Poor Law Conference for South Wales met in Cardiff, it was attended by 65 men and just one woman; Gertrude Jenner. Gertrude had become increasingly active in voicing her disgust in the newspapers about the conditions in local workhouses and police cells. She argued it was appalling that there had been 7 deaths from exposure in the Cardiff workhouse. Blankets and coffee should be provided, and she'd pay for it if nobody else would - using her favourite self-penned motto: "Wales expects every woman to do her duty!"
Her activity in local poor relief, suffrage and national politics again drew scorn from the newspapers. She publicly campaigned for women's rights for the Married Women's Property (Amendment) Act. When she later campaigned for a candidate in an election, the Weekly Mail was stirred into writing:
Miss Jenner wishes, as a strong-minded woman - a peripatetic philosopher in petticoats - to help the weak-kneed Radicals to the poll. Nature, say the learned, often indulges in freaks. Miss Jenner is a freak to all intents and purposes.

Had she been of the sterner sex she might have conquered a province... It is not Miss Jenner's fault if she is not the mayor, aldermen, and corporation all in one, with a trifle of the evangelical curate and the village poet thrown in. Still, I like her much.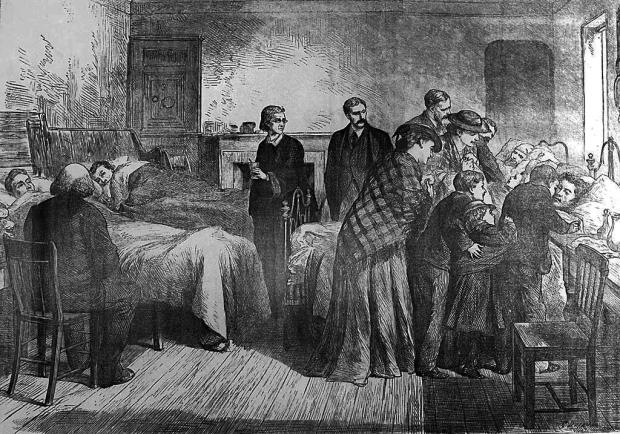 War with the Board of Guardians
In 1881 Gertrude was voted onto the local Board of Guardians for the first time, and the only woman. A story soon broke about a young girl convicted of the murder of her baby and who was sentenced to hang. Yet the girl, Gertrude argued, was also a victim as she lived in a 'house of ill repute in one of the worst quarters in Cardiff' and was therefore quite vulnerable herself. In fact, she stated, had conditions in the workhouse been better, the event may never have happened.
The Cardiff Board of Guardians was not impressed. Writing in the newspapers, the Board's Chairman said he "regretted that that lady had not, out of respect even for her own sex, ceased from bringing this miserable case on again and again, airing a sort of sentimental grievance." He regretted that any lady should have stood forward as an advocate for the poor wretched woman. The motion was seconded with the comment that the Board 'had quite enough of Miss Jenner's clap-trap'.
Undeterred, Gertrude struck up a petition and sent it with an appeal to the Home Secretary.  The Home Secretary agreed and duly commuted the girl's death sentence to one of penal servitude. In all, Gertrude would later claim credit for saving 14 of her 'fallen sisters' from the scaffold.
Bankruptcy and the lady litigant
Unfortunately, the greater portion of her later years was mired in the fight over property and land rights with the Wenvoe Estate. She travelled, on her own estimation, over 20,000 miles back and forth London to fight her case in the High Court. It all but ruined her, and she became known as the 'lady litigant' who always fought her own cases, fully armed with law books and maps, asking for 'chwarae teg' ('fair play').
She was made bankrupt more than once in the 1880s and 1890s. When she was sued for not paying her rates, she defended herself, often tying local magistrates in knots with her knowledge of the law and her rights. During one stint in court, she argued - successfully - on four legal points, but also added:
...the word 'spinster' ought to be added after my name, as I don't wish anyone to think I have become a 'slave' or a 'widow'.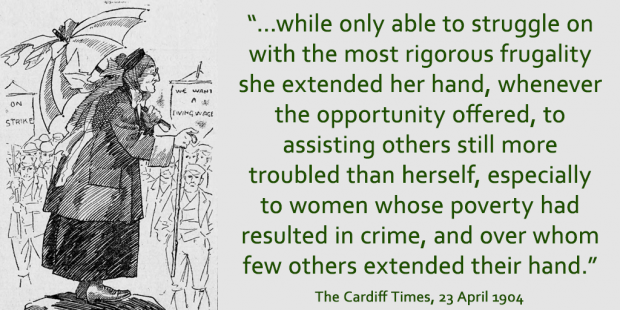 Gertrude was still attending local court cases, always speaking up for one of her 'fallen sisters', deep into her 60s. But she was forever consumed with her own litigation and struggles to prove her part of her father's will. This itself brought its own issues, and there were alleged threats of violence and intimidation to her throughout the 1890s.  After a short bout of 'flu, she died at home in April 1904, aged 69.
To one contemporary, she was a modern-day 'Portia' from Shakespeare's Merchant of Venice, a character who disguises herself as a man and wins her own case why Portia shouldn't be married to a suitor. To others, Gertrude Jenner was a Charles Dickens character come to life. She was compared to the character of Miss Flite in Bleak House, an elderly eccentric lady financially ruined by fighting a case in Chancery. Of course, any woman standing up for herself would have to be eccentric, wouldn't she?
Five years after her death, the Glamorgan Gazette referred to Gertrude as "that litigious lady, the late Miss Jenner, whose masculinity was evidenced by a predilection for male boots, a huge brief-bag, and thick walking stick." But today, Gertrude Jenner is celebrated as a progressive thinker and a woman who is rightly seen as one of the most active suffrage campaigners in south Wales. In her book, 'Women's Suffrage in Wales', Lisa Tippings writes:
Along with her indefatigable support for female suffrage and equality, she was equally concerned with the lives of the poor and the working-class… She felt herself to be a victim of injustice, being unable as a woman to claim a portion of her father's Wenvoe estate… but still refused to be belittled or downtrodden and continued her fight on behalf of others less fortunate than herself.
Finally, I'd like to add my thanks to all the editors and contributors to all those hundreds of newspapers I've based my research on. It's worth promoting here the fantastic National Library of Wales online newspapers resource, without which this blog would not have been possible.