Insolvency Live! is one of the highlights of the insolvency world's calendar. This year, for the first time, it was a fully virtual event - which even Larry the Downing Street cat was fully in favour of!
Held on Tuesday 24 November on Microsoft Teams Live, Insolvency Live 2020 welcomed some of our key stakeholders including insolvency practitioners, debt advisors and other government departments such as HMRC.
Planning the event
This was my third year of coordinating the event and my first time pulling it together over a digital platform. I was both nervous and excited to see how it would all work out.
I started planning the event back in August where I began sketching out an agenda with our Stakeholder Engagement Board. With a draft brief in hand I approached colleagues and pitched the ideas to them to secure their participation in the event.
One of the big challenges every year is sourcing a guest speaker. This year we were very lucky that Jennifer Marshall, from Allen & Overy, agreed to talk about her experiences in using the new Corporate Insolvency & Governance Act that was passed earlier this year.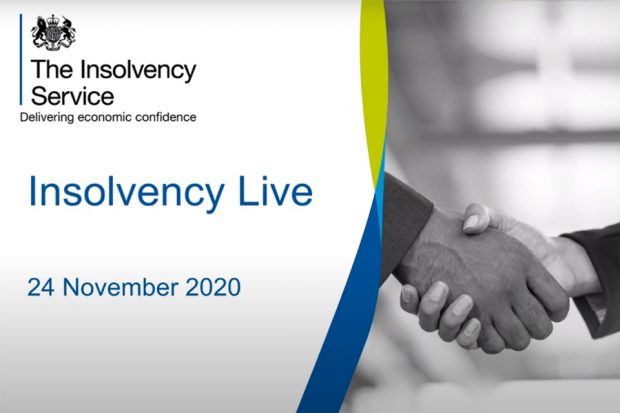 As this was my first time planning a virtual event, I felt a little bit of technical expertise was needed. Luckily, help was at hand as Symity Communications had been helping us roll out Microsoft Teams across the agency earlier in the year and they were very experienced in supporting organisations to run similar events.
By September, the presentations were commissioned and the event had been advertised on our Twitter and LinkedIn pages, as well as our popular Insolvency Service newsletter. My next priority was ensuring colleagues received the training they needed to feel confident in using Teams Live. This was achieved mainly through a series of dry runs where Symity coached them in how to use the platform and gave tips on how to maximise their sessions.
The big day arrives
After months of planning, the event was upon us and I arrived at my kitchen table buzzing with nervous energy. I opened my email inbox to a flurry of last minute requests and a moment of horror struck when I saw an email stating 'Insolvency Live! alternative links'. "Surely I'm not expected to reissue links an hour before the event?!", I screeched.
A quick phone call later and I was relieved to find out the alternative links were there simply for back-up in case anything went wrong.
9:45am arrived and I clicked apprehensively on the MS Teams Live link for the first session, which included a welcome from our Chairman, Steve Allinson, an opening address by our Chief Executive Dean Beale, and our guest speaker Jennifer Marshall. I was pleased to find Steve ready and waiting on the production panel, followed shortly after by Dean and Jennifer.
There was a sense of calm and assuredness as 10am came and Steve and the panel were switched to 'Live'.
How the day went
I am absolutely delighted to say that the day continued as it started - without any major glitches. The presenters, some of them having never spoken in public before, presented well-structured content and confidently answered questions with their expertise.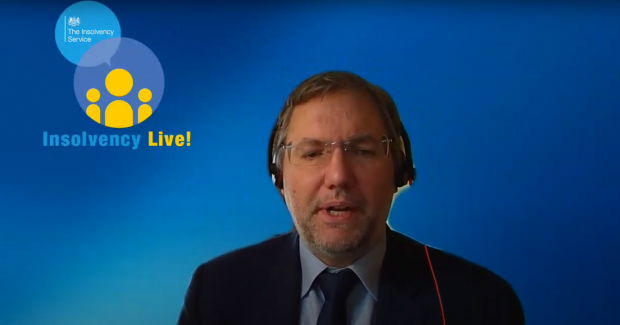 In his closing speech Dean thanked everybody involved in making the event a success. He said:
I managed to dip into all six of the breakout sessions and learnt something that I didn't know in all of them - and that's always a good indicator of quality content.
The most popular session had 164 attendees from across a variety of stakeholders - an 86% increase in attendees compared to our face to face event last year.
It wasn't long before the tributes started coming in, with Chairman Steve Allinson saying:
It was an absolute privilege to chair Insolvency Live! again in 2020, and the way the agency adapted to a virtual conference is a testament to the hard work of so many behind the scenes. The quality of the sessions was excellent, as shown already by the feedback and messages on social media.

What I love about this event is how we succeed in appealing to such a wide body of our stakeholders. Our Chief Executive, Dean, and all the team involved should be very proud of the day. Insolvency Live! really does promote the commitment, dedication and passion of those who work for the Insolvency Service.
Catch up on the content
For those of you who were unable to see the event live, or would like to revisit some of the topics discussed, particularly around the impact of the pandemic this year and beyond, we've uploaded the content to our YouTube page:
IS Live! S1 Opening & Jennifer Marshall
IS Live! S2a Official Receiver Services
IS Live! S2b Investigation, Enforcement & Legal Services
IS Live! S2c ORS workshop for Money Advisors
IS Live! S3b Redundancy Payments Service
IS Live! S3c Breathing Space & DRO
Next time...
We hope to be able to run more events using MS Teams Live in the future and have plans to pull together a programme of one hour long webinar sessions.
Tell us what topics you would like us to provide webinars on.
If you enjoyed reading this and would like future blogs sent to you by email, don't forget to subscribe.